My Blog
Posts for: February, 2020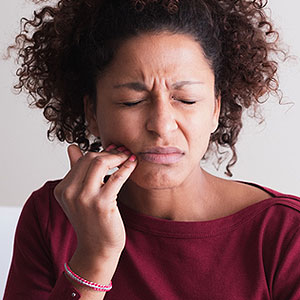 A loose primary ("baby") tooth is often a cause for celebration. A loose permanent tooth, however, is a cause for concern. A permanent tooth shouldn't even wiggle.
If you have a loose tooth, it's likely you have a deeper dental problem. Here are the top underlying causes for loose teeth.
Gum disease. Teeth are held in place by an elastic tissue called the periodontal ligament. But advanced periodontal (gum) disease, a bacterial infection usually caused by film buildup on teeth called dental plaque, can damage the ligament and cause it to detach. If it's not treated, it could lead to tooth loss.
Bite-related trauma. A normal bite helps balance out the forces generated when we chew so they don't damage the teeth. But if a misaligned tooth protrudes higher from the jaw, the opposing tooth will likely create more downward pressure on it while chewing. This can stress the tooth's supporting ligament to the point of looseness.
Self-inflicted trauma. While they may be trendy, tongue jewelry can cause dental damage. A wearer who clicks the "barbell" of a tongue stud against their teeth could be creating conditions conducive for gum damage and bone loss, which can cause tooth looseness. Similarly, taking orthodontics into your own hands could also damage your teeth, especially if you have undiagnosed gum disease.
Genetics. Although you can't prevent it, the type of resistance or susceptibility you inherited from your parents (as well as your dental anatomy) can cause you dental problems. Thinner gum tissues, especially around the roots, can make you more susceptible to gum disease or dental trauma, which in turn could contribute to tooth looseness.
There are things you can do to lessen your chance of loose teeth. Brush and floss every day to remove disease-causing bacterial plaque and see a dentist regularly for cleanings to reduce your risk of gum disease. If you have any misaligned teeth, consult with an orthodontist about possible treatment. And avoid oral jewelry and DIY orthodontics.
If you do notice a loose tooth, see us as soon as possible. We'll need to diagnose the underlying cause and create a treatment plan for it. We may also need to splint the tooth to its neighbors to stabilize it and reduce your risk of losing it permanently.
If you would like more information on tooth mobility, please contact us or schedule an appointment for a consultation. You can also learn more about this topic by reading the Dear Doctor magazine article "When Permanent Teeth Become Loose."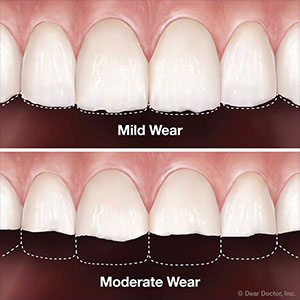 Unlike our primitive ancestors, our teeth have it relatively easy. Human diets today are much more refined than their counterparts from thousands of years ago. Ancient teeth recovered from those bygone eras bear that out, showing much more wear on average than modern teeth.
Even so, our modern teeth still wear as we age—sometimes at an accelerated rate. But while you can't eliminate wearing entirely, you can take steps to minimize it and preserve your teeth in your later years. Here are 3 things you can do to slow your teeth's wearing process.
Prevent dental disease. Healthy teeth endure quite well even while being subjected to daily biting forces produced when we eat. But teeth weakened by tooth decay are more susceptible to wear. To avoid this, you should practice daily brushing and flossing to remove disease-causing dental plaque. And see your dentist at least twice a year for more thorough dental cleanings and checkups.
Straighten your bite. A poor bite, where the top and bottom teeth don't fit together properly, isn't just an appearance problem—it could also cause accelerated tooth wear. Having your bite orthodontically corrected not only gives you a new smile, it can also reduce abnormal biting forces that are contributing to wear. And don't let age stop you: except in cases of bone deterioration or other severe dental problems, older adults whose gums are healthy can undergo orthodontics and achieve healthy results.
Seek help for bruxism. The term bruxism refers to any involuntary habit of grinding teeth, which can produce abnormally high biting forces. Over time this can increase tooth wear or weaken teeth to the point of fracture or other severe damage. While bruxism is uncommon in adults, it's still a habit that needs to be addressed if it occurs. The usual culprit is high stress, which can be better managed through therapy or biofeedback. Your dentist can also fashion you a custom guard to wear that will prevent upper and lower teeth from wearing against each other.
If you would like more information on minimizing teeth wear, please contact us or schedule an appointment for a consultation. You can also learn more about this topic by reading the Dear Doctor magazine article "How and Why Teeth Wear."