My Blog
Posts for tag: dentures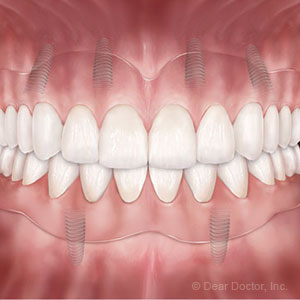 Not long ago, the most affordable option for total tooth loss was a removable denture. Dentures, prosthetic (false) teeth set in gum-colored acrylic plastic bases, can effectively restore function and appearance. But the appliance continues to have one major drawback: it can accelerate bone loss in the jaw.
Like other living tissues, older bone cells die and become absorbed into the body (resorption). Normally they're replaced by newer cells. The forces generated when we chew our food travel through the teeth to stimulate this new growth. This stimulus ends when we lose our teeth, and so cell replacement can slow to an abnormal rate. Eventually, this causes bone loss.
Removable dentures can't provide this stimulation. In fact, the pressure generated as they compress the gums' bony ridges can even accelerate bone loss. That's why over time a denture's fit can become loose and uncomfortable — the bone has shrunk and no longer matches the contours of the dentures.
In recent years, though, a new development has been able to provide greater support to dentures while at the same time slowing or even stopping bone loss. We can now support dentures with dental implants.
Implants are best known as individual tooth replacements: a titanium metal post replaces the root, while a life-like porcelain crown attaches to the post to replace the visible tooth. In addition to providing a longer-lasting alternative to removable dentures, implants provide a very important health benefit: they improve bone density because they mimic the function of natural teeth. Bone cells are naturally attracted to the titanium; they adhere to the titanium post and are stimulated to grow through the action of chewing, increasing bone density and securing the implant's hold in the jaw.
Using the same technology we can support removable dentures, or even full fixed bridges. Rather than rest directly on the bony ridges, a denture can make a secure connection through a coupling system with just a few strategically placed implants. We can also permanently attach a full bridge by fastening it to a few implants with screws.
Not only do we eliminate the pressure from dentures compressing the gums and bone tissue, we can actually stimulate bone growth with the implants. Although more costly upfront than traditional dentures, unlike traditional dentures which must be replaced every five to seven years, long-lasting implants may be more cost-effective over the long-run.
If you would like more information on implant-supported tooth replacement, please contact us or schedule an appointment for a consultation. You can also learn more about this topic by reading the Dear Doctor magazine article "New Teeth in One Day."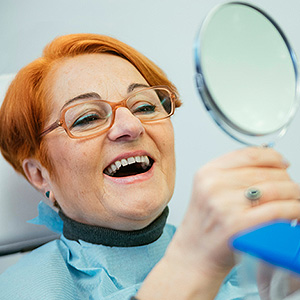 Edentulism, the loss of all of a person's teeth, is more than an appearance problem. As one in four Americans over 65 can attest, total tooth loss can lead to emotional suffering, social embarrassment and a lack of nutrition caused by limited food choices.
But there are solutions like the removable denture, an effective dental restoration for more than a century. In its current advanced form, the removable denture is truly a functional, affordable and attractive way to restore lost teeth.
Creating an effective denture begins first by taking detailed impressions of a patient's gum ridges. We use the measurements obtained from this process to create a plastic resin base colored to resemble the natural gums.  Using old photos and other resources documenting how the patient looked with teeth, we choose the best size and shape of porcelain teeth and then position them onto the base.
Finally, we fine-tune the dentures the first time they're in the patient's mouth to make sure they have a secure fit and a balanced bite when the jaws come together. We also want to be sure the dentures are attractive and blend well with other facial features. The result:  a new set of teeth that can do the job of the old ones and look nearly as real and attractive.
Dentures, though, do have one major drawback: they can't stop bone loss, a common consequence of missing teeth. In fact, they may even accelerate bone loss due to the pressure they bring to bear on the gum ridges. Continuing bone loss could eventually cause their once secure fit to slacken, making them less functional and much more uncomfortable to wear.
But a recent innovation could put the brakes on bone loss for a denture wearer. By incorporating small implants imbedded at various places along the gums, a denture with compatible fittings connects securely with the implants to support the denture rather than the gum ridges. This not only relieves pressure on the gums, but the titanium within the implants attracts bone cells and stimulates their growth.
Thanks to this and other modern advances, dentures continue to be a solid choice for tooth replacement. Not only can they restore a lost smile, they can improve overall health and well-being too.
If you would like more information on dental restorations for missing teeth, please contact us or schedule an appointment for a consultation. You can also learn more about this topic by reading the Dear Doctor magazine article "Removable Full Dentures."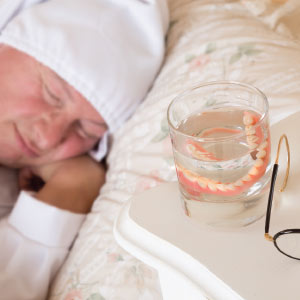 Maybe you don't like to be without teeth — ever. Or maybe you get a little forgetful sometimes. Whatever the reason, if you're wearing your dentures to bed at night, we have one message for you: Please stop!
Sleeping in dentures can have serious health consequences. A recent study published in the Journal of Dental Research found that nursing home residents who wore their dentures to sleep were 2.3 times more likely to be hospitalized or even die of pneumonia as those who did not sleep in dentures. But how can wearing dentures at night more than double your chances of getting a lung infection?
As the study noted, pneumonia-causing bacteria can readily be moved from the mouth to the lungs simply by breathing. And dentures that are not removed at night can become breeding grounds for all kind of bacteria and fungi (such as yeast). That's what makes them potentially dangerous.
Another condition often seen in people who wear upper dentures continually is called denture stomatitis, which is characterized by a red, inflamed palate (roof of the mouth) that has been infected with yeast. The yeast microorganisms can also infect cracked corners of the mouth, a condition known as angular cheilitis. Moreover, it has also been shown that people who sleep in dentures have higher blood levels of a protein called interleukin 6, which indicates that the body is fighting an infection. Need we go on?
Wearing dentures is supposed to improve your quality of life, not reduce it. So promote good health by taking your dentures out at night, and sticking to a good daily oral hygiene routine:
Remove and rinse your dentures after every meal.
Brush your dentures at least once a day with a soft toothbrush or denture brush and dish soap, liquid antibacterial soap, or denture cleanser (but don't use toothpaste — it is too abrasive).
Store your dentures in water or a solution made for this purpose.
Brush your gums and tongue every day with a soft toothbrush (not the same one you clean your dentures with).
Rinse your dentures in clean water before you put them back in your mouth.
If you would like any more information on dentures and oral hygiene, please contact us or schedule an appointment for a consultation.